November 18, 2012
Change of Focus at G-TraX

As many of you are aware, the G-TraX on-line store was shut down following the October 20 release of Train Simulator 2013. Issues that led to the shutdown have now been resolved, but meanwhile G-TraX and this web site have undergone a change of focus.
The Durango & Silverton route is once again available as Donationware from G-TraX only. Proceeds will continue to benefit the Durango Railroad Historical Society.
After three years, the rate of new orders for the three heritage steam locomotives has dwindled to negligible levels and they will no longer be available from G-TraX. However, sales of those products are scheduled to resume on Steam at some point, and the locomotive packages have been adapted to take advantage of the new Quick Drive feature.
Rather than continuing to receive royalties for the heritage steam locomotives, G-TraX will receive a one-time buyout payment for them. G-TraX will in turn make a one-time final donation to the respective preservation societies.
Future updates to and maintenance of the heritage steam locomotive products will be the responsibility of the entity from which you purchased them, that is, G-Trax for items purchased from G-TraX and Steam for items purchased through Steam. G-TraX will endeavor to update locomotive products you purchased from G-TraX in concert with future updates to Train Simulator; however, G-TraX will not necessarily have access to future Train Simulator technologies so no guarantees can be made in this regard. In any case, please do not contact G-TraX if you have an issue concerning a product that you purchased through Steam.
Existing G-TraX freeware products will also be uploaded to the RWA file library.
The Portland Terminal and P42DC products will continue to be available on Steam only. Updates to and maintenance of these products is the responsibility of RSC/Steam.
G-TraX (Rick Grout) will concentrate on providing contract route- and model-building services as well as complete product packages for distribution via Steam. That does not rule out the possibility of future independent releases along the lines of Durango & Silverton.
The G-TraX site has been "slimmed down" to reflect these changes.
Thanks to all of you who have supported G-TraX. This is not the end of the road; I'm not going anywhere. Just doing things a little different.
Rick
December 21, 2011
Durango & Silverton: A new G-TraX project

US narrow gauge comes to RailWorks!
Situated among the beautiful San Juan Mountains in southwestern Colorado, the Durango & Silverton is one of the few US narrow-gauge railroads still in operation. Steam-powered excursions are operated between the two namesake cities daily from May through October. Trains also operate frequently between Durango and Cascade Canyon during the snowy season. For more information, visit the D&S web site.
The RailWorks route encompasses the entire 45-mile run. Highlights include Durango Yard and Depot, Silverton Depot, and the famous High Line running as high as 400 feet above the Animas River for nearly two miles on a blasted-out rock shelf. The route is a collaborative, community effort. Contributors so far include Barry "Captain Bazza" Munro (K-27 steam locomotive), Justin Legg (coach and parlor cars), Larry Goss (freight cars), Michael Stephan ("old west" buildings), Rich Chargin ("Welcome to Durango" sign), Grant Brennan (photos and research), Timm Schulze (DEMs and trackwork), and Rick Grout (scenery, major buildings and structures).
Timm was also the guy who originally pitched the idea for the route to me and it was he who really got the project rolling.
The route will be released in phases. I think of this as being similar to a model railroad project. The first phase will have a few bare spots, but as time goes on we'll add some more buildings and rolling stock. Contributions are welcome. Maybe one of your creations will be included in a future phase. But first you have to contribute something! Some of the current rolling stock items were built for MSTS and that's great. I'll take care of the conversion work for you. Your models will look all the better in the amazingly realistic RailWorks environment.
We haven't decided how we're going to deliver the route yet as there are a few loose ends in that department. It may be a Preservation Series offering. It won't be Steam payware. Release of Phase 1 will be in the late-Winter early-Spring time frame.
November 26, 2011
POV: Scenario Blues, Lessons Learned

I recently removed two Portland Terminal scenarios from the file library at Railworks America and from this site. One of them, "Running Low on Fuel Again," was a temporary fix for the "Running Low on Fuel" scenario that accompanied the original RW2 release of PT. "Running Low on Fuel" was fixed in the recent TS2012 update, so there's no longer a need for the "Again" version.
The other scenario I removed was one of mine that I called "Bath Iron Works Goods Order." There were reports that the scenario was no longer working, presumably due to changes in TS2012. Whenever I tried to run it, one of those classic stalemates at a red signal was consistently bringing the action to a dead end. Despite spending the better part of a day and a half trying different ideas, I was never able to make it work. At some point you have to say "enough" and I had reached that point. It's time to turn my attention back to other more productive things such as making models for us all to enjoy.
That's too bad, because I thought the idea for the scenario was a good one. It involves a feature you may not even be aware of: the movable crane car at the steel fabricator's yard. Unfortunately the scenario failed in its implementation.
It should come as no surprise that I enjoy building railroad-related models and scenes. I'll let you decide whether I do a good job at that or not. One thing I know I'm not good at is programming scenarios. A scenario evolves in two phases: the writing phase and the programming phase. The writing phase is the creative part where you dream up what's going to happen in the scenario. The programming part is where you actually make those things happen, and as I said I'm not very good at that. Nevertheless, I'll probably continue to program scenarios, but with a few conditions.
No passenger train scenarios. I know lots of you enjoy the challenge of keeping a passenger train running according to a timetable and making all the station stops on schedule. Well not me. What interests me even less is testing such a scenario only to find that there's a problem near the end of it. Even if I have no issues fixing the problem, it means I have to run through the whole thing again to make sure the fix worked. That time begins to add up on longer scenarios, and passenger train scenarios tend to be long. I'd much rather just ride in the dome car watching the scenery go by and let somebody else do the driving.
Maximum duration 40 minutes. Actually, the goal is 30 minutes, but it's not a hard and fast rule. As I said, I don't care that much for passenger train operations, but I enjoy switching scenarios. For me the fun is in the problem solving. I'm happy with this kind of scenario as long as it doesn't involve long periods of time doing nothing more than driving from one switching location to the next one. Thirty minutes is plenty of time for a player to solve a switching problem or three. It also reduces the amount of time it takes to test and re-run the scenario.
Minimal AI. AI trains are nice. They give the impression of a busy, working railroad. But they can also get in the way. I've dabbled in computer programming over the years and I can appreciate the work that must go into programming an AI train system in any simulator. Unfortunately, AI snags occur all too frequently for my taste. I have a feeling that if we knew how the AI logic was actually programmed we could avoid those snags. But that's not going to happen, so any AI trains I program will be animated background scenery, running on a totally separate path from the player train.
I know that the main reason we are drawn to railroad simulators is to run the trains, and that it's a whole lot more fun to run them in a realistic operating environment. That's why there are activities, scenarios or whatever you want to call them. I will continue to write scenarios and I may even program a few, subject to the above conditions. The majority of the scenarios for existing G-TraX products were written by others. I'll be relying increasingly more on those folks and others like them who know what they're doing and who have the patience to make sure the end product will perform to your satisfaction.
July 25, 2011
New Amtrak Equipment Coming in August
G-TraX has teamed up with DigitalTrainModel (DTM) to bring you a superb new set of Amtrak trains.
DTM is a provider of add-ons for RailWorks, featuring the craftsmanship of César "Mannu" Pach. Although César lives in Buenos Aires, Argentina, he is a big fan of US railroading and he's putting together an outstanding set of Amtrak Superliner cars. These passenger cars are primarily of the Superliner I design, which were built by Pullman-Standard and delivered to Amtrak between 1978 and 1981. The set includes a Baggage Coach, Coach, Dining car, Sightseer car, Sleeper and even a Superliner II Transition Sleeper. The models are highly detailed and meticulously painted. Each car includes an interior passenger view, unique audio effects, and scripted brake-status lights. For more information about DTM products, visit the Links page of this web site.
G-TraX will provide the motive power, in this case the General Electric Transportation Systems P42DC. The P42DC is the most ubiquitous of Amtrak's passenger locomotives. A total of 207 were delivered between 1992 and 2001. GE also built another 21 for VIA Rail. The P42DC is part of the Genesis series, which also includes the P40DC and the P32AC-DM.
The P42DC is notable for its streamlined, low-profile design, making it more fuel eficient that its predecessors and enabling it to run on all Amtrak routes without clearance issues. In order to improve maintainability, Amtrak in recent years has installed bolt-on fiberglass nose covers.
Genesis locomotives can provide head-end power (HEP) of up to 800kW to their consists. A separate alternator driven by the prime mover supplies 480volt, 3-phase power. When running in HEP mode, the engine rpm is limited to 900 which results in a net power of 3,875Hp (2,890kW).
The model includes a custom 360° cab with numerous, extensively scripted operating and cab-environment controls. Features include flashing ditch (crossing) lights, horn sequencer, combined power/dynamic brake handle, as well as a pair of information displays with digital/analog speedometer and other animated indicators. The audio package includes simulations of a P42DC engine-generator, its bell and its distinctive Nathan K5LA horn. Liveries include the present-day Phase V "blue wave" scheme, dynamically numbered 1 to 206*, and a special 40th anniversary Phase III "tri-stripe" paint scheme, numbered 145. Also included is another version of the locomotive painted in VIA Rail livery, dynamically numbered 900 to 920.
The locomotives and passenger cars will be released as a single package in late August, 2011. Further details will be announced as plans are finalized.
| | |
| --- | --- |
| | * What about number 207? Unfortunately locomotive 207 was damaged by fire in 2010. Number 207 and other units known to be out of service, either temporarily or permanently, are not reflected in the dynamic numbering list. Units that have been repainted by Amtrak in heritage livery are also not included in the list. As previously mentioned, one of the heritage units, Amtrak 145, is included in the G-TraX package as a standalone locomotive. |
December 15, 2010
What's Rick been up to?
I haven't released any new products lately, and it'll be a little while longer before I do. It's about time I explained why. Nothing wrong here, just a matter of priorities.
Open Rails Open Rails was the brainchild of Wayne Campbell. For the past few years Wayne had been putting out feelers on the forums to see if there was any interest in an all-volunteer open-source railroad simulator that would pick up where MSTS left off. Last October, being an amateur programmer and being intrigued with the concept, I contacted Wayne. He agreed to share his code with me and he suggested I try my hand at creating a sky dome. After a few weeks, and for me a steep learning curve, the sky dome was in place.
That's when OR began to really take off. Wayne programmed like a madman and by year's end (2009) he had created the beginnings of a credible sim. It was about then that he made the project public and others joined in to begin coalescing into a team. Earlier this year I added a few more features, starting with dynamic sun, moon, clouds, rain, and snow effects -- the basic environment suite. To this I added forest objects, dynamic track sections and train lights. Maybe you saw some of my YouTube videos. What I did was pretty rudimentary and since then others have smoothed out some of the rough spots and provided additional features. That's what an open-source project is all about.
As far as the future is concerned, Open Rails can go in several directions, but two basic ones come to mind. It could become be a whole new state-of-the-art railroad simulator, or it can continue being what it is today, a makeover of MSTS that takes advantage of modern-day PC technology. I don't think anyone is in a position to predict the ultimate direction the project will go or in what kind of a time frame. Time will tell. Meanwhile, the current OR team is to be commended for their ingenuity and technical prowess.
RailWorks Say what you might about RailWorks vs. MSTS vs. Trainz vs. you-name-it, G-TraX will continue to support the RailWorks platform. Sales of G-TraX products for RailWorks have far exceeded expectations. Steam has been a significant part of that succcess. Product sales on Steam have exceeded those from this site by a factor in excess of 2.5. That's to be expected since the products get a lot more exposure on Steam than they do here.
What's most important, though, is that donations by G-TraX in support of railroad preservation organizations recently passed the $20,000 mark.
Maybe you noticed that in May I offered a set of modern double-stack well cars as a free download for both MSTS and RailWorks. I didn't really push those products. I intentionally made only low-key product announcements on the main MSTS and RailWorks forums. The result? Downloads of the RailWorks version currently exceed those of the MSTS version by 60%! Sure, you can argue that there were plenty of MSTS double-stacks out there already, but that's also somewhat true for RailWorks. Also, G-TraX focuses on "beyond-MSTS" products, so a lot of MSTSers may not even know about this site. Nevertheless, MSTS is still holding its own, and that's good for the hobby. Taking all that into account, though, and even if the 60% margin is realistically a lot smaller, it's pretty obvious to me there's a healthy and growing demand for RailWorks content.
I don't have much in the way of "inside information." I look at results such as the ones reported here. I scan the fan forums like everyone else. But from it all, I get the distinct impression there's a quiet transition taking place. More and more people are trying out RailWorks -- and some are even liking it! There are still plenty of MSTS adherents, just as there are those who continue to swear by Trainz, BVE and any of several other sims. That's fine and that's to be expected. If you like MSTS or the other sims better than RailWorks, by all means stick with them!
Me, I'm going with RailWorks.
So what's next from G-TraX? Read on...
The Route Beginning in mid-June I began full-time development work on a new route for RailWorks. It's hard to choose a route as there are so many possibilities. After consulting with Tim Gatland of Railsimulator.com, the consensus was to go forward with the one you see on the home page. Actually, it was my friend Michael Stephan who came up with the idea. Michael had DEMed the terrain, started the trackwork and put together a small scene using his oil tanks and lofted piping. Michael handed the project off to me six months ago and I've been at it non-stop ever since.
The project focuses on freight operations in and around a small US port city. The overall route is just a few miles long from one end to the other and the terrain is relatively flat, but the scenery is remarkably varied. The route traverses tidal marshes, suburban and industrial zones as well as the historic downtown wharf area of the city itself. It features the largest yard in the region, over a mile-and-a-half long with over 40 ladder tracks, along with engine service facilities, a turntable and a rickety, 16-stall steam-era roundhouse. Industries abound, as do sidings and spurs to serve them. In sum, there's an awful lot of activity going on in a fairly small space and it's my goal to keep you on your toes!
The era is modern. Or is it? This particular city used to have a lot more tracks running around and through it than it does today. For instance, the tracks along the waterfront are long gone and, sad to tell, that lovely old roundhouse was finally demolished this past year. But in this route, it's all back! With a little imagination -- and maybe some suspension of disbelief -- you'll be able to operate trains during any era from about 50 years ago to the present. That's one of the beauties of virtual railroading.
From a modeling standpoint, there are hundreds of original assets as well as custom trackwork and roads. You'll recognize a few of the familiar Kuju/RSDL/RS.com objects, but not many. The package already includes one "new" locomotive with more on the way.
Did I say the name of the city? I guess I didn't, but no more hints. Just for fun, see if you can guess the location. (If you've been in contact with me about the project please keep it to yourself.) I'm sure somebody will figure it out eventually. I'll have more to say when the secret's out, along with more screen shots to entice you.
Estimated release: Spring of 2011.
Full Disclosure If you've ever purchased one of the G-TraX steam locomotives through this web site, you've probably read (or should I say, "hopefully" read) the disclosure statement about them.
At some time prior to the release of the G-TraX "mystery route," I'll create a similar web page about it. I've had a few ideas about what should go into the disclosure statement, but as yet I haven't put anything in writing. A few of those ideas may change as the route gets closer to completion, so I'm not quite ready to commit. Nevertheless, I'm pretty confident about the following:
The disclosure statement will tell you what's in the route as well as what's not in it. It will tell you about the good stuff and the not-so-good stuff. No BS, no hype. (OK, maybe some hype. At least I happen to think it's a pretty cool route! ;-) ) Same kind of writeup as was done for the locomotives.
If the route is offered for download on the G-TraX site, the files will not be locked out, nor will they be otherwise restricted in a manner that's any different from my existing products. In accordance with the EULA, which you implicitly agree to when you obtain the route, you can do anything you want with the included assets in the privacy of your home. However, you can't give them to someone else (for instance, you can't bundle them with your own route and upload them to a freeware library), and of course you can't sell them to someone else, without first obtaining my written permission. That said, there's nothing to prevent you from releasing a route that requires users to have a legitimate copy of the G-TraX route installed on their system. Incidentally, I only say "if the route is offered" at this site because there may be a bandwidth issue that could make downloading from this site financially prohibitive. I hope that's not the case, but we'll just have to wait and see.
The route will very likely be offered on Steam. If you purchase it through that channel, I can't say what form of digital rights management, if any, they might apply. I doubt that there will be anything like that, but whatever the case I have no control over it.
The route package will be self-contained. No additional products will need to be present on your system in order for the route to work. You'll only need the route package itself and RailWorks.
&nbsp
August 29, 2010
Celebrating the first year
G-TraX has now been offering downloadable railroad simulator products for a year. To celebrate the occasion, all three Preservation Series steam locomotive packs are on sale!
As always, your contributions will continue to support three worthy preservation organizations, keeping North American steam alive and well. Since the G-TraX Preservation Series program began one year ago, over $18,000 has been raised. Again, many thanks to all of you!
Please refer to the Products page for more information.
&nbsp
May 10, 2010
Double-Stacks by G-TraX
(Got the spelling right this time!)
Tired of those generic container loads that ship with Rail Simulator and RailWorks? Looking for some new double-stacks for MSTS? Check out these new G-TraX freight car sets, now availble as free downloads for both sims!
The models are based on the single-unit style of Husky Stack® cars built by Gunderson beginning in 1990. These cars have 48-foot wells, 70-ton trucks, and they can carry two 20-foot containers or one 48-foot container in the well. Another 40- to 53-foot container can be carried above.
The cars are offered in TTX and CRLE paint schemes. The colorful container loads are based on ones belonging to several familiar international shipping companies. The RailWorks version features dynamic numbering and compatibility with the automated car loaders.
See the Products page for more information.
&nbsp
March 18, 2010
G-TraX Donations Top $11,000
The first payment for G-TraX products sold on Steam was received yesterday. It took a lot longer than I expected. Payments are made quarterly and this one was for 4Q09. I've been assured by the folks at RailSimulator.com that there will be a quicker turnaround next time. This is new for all of us!
Anyway, I was pleased to write three nice checks yesterday. It seems that more and more, groups like the Pacific Railroad Preservation Association, the Fort Wayne Railroad Historical Society, and the Oregon Rail Heritage Foundation are being hit with new, unexpected costs.
Terry Kimzey of PRPA shared a few stories with me about the costs affecting the SP&S 700.
Private insurance for railfan trips has gone through the roof. It's a whole lot cheaper if you insure through Amtrak, but there are strings. An Amtrak locomotive has to be part of the consist. (Does that ever look wierd?) As you would expect, the Amtrak locomotive has to have an Amtrak crew. None of that is free, by the way. If the locomotive and/or crew are suddenly needed somewhere else to support Amtrak operations, that's where they go. Too bad about that railfan trip you've been planning for six months! Luckily, that's not likely to happen, but it's one of the conditions of the deal. Another condition: All rolling stock—they're mostly passenger cars—have to be Amtrak certified. We don't have any of those in Oregon and they have to be brought here from California, at a hefty cost. And on top of that, if the landlord decides to kick you out, you'll need to find yourself a new home. (Read the story below.)
Thanks to all of my G-TraX patrons. Your money is helping three fine, and needy, non-profit organizations.
Rick Grout
&nbsp
January 23, 2010
GS-4s now on Steam
The G-TraX GS-4 pack is now being offered at the RailWorks Steam shop. You can also purchase the pack here at G-TraX. Included is the most famous GS-4, Southern Pacific 4449. SP 4449 comes in three liveries: Daylight, American Freedom Train and BNSF Employee Appreciation. Also included is a dynamically numbered "War Baby" loco, suitable for freight service.
This is another Preservation Series loco pack and as usual most of the G-TraX earnings are dedicated to preserving our railroad heritage. In the case of the GS-4 pack, the beneficiary is the Oregon Rail Heritage Foundation.
For additional information, please scroll down to the original GS-4 news release.
&nbsp
January 5, 2010
More Lightweights and New Scenarios! A new Lightweight Passenger Car 4-pack consisting of four seven-car sets is now available. Four road names are included: Southern Pacific (Daylight), Union Pacific, Santa Fe (fluted stainless steel), and Great Northern (Empire Builder).
Use these railcars in classic "name trains" or mix and match them the way modern-day excursions often do.
Also, you say you want scenarios? We got 'em here! More to follow, too.
Visit the growing Products page for more information.
&nbsp
December 14, 2009
The Southern Pacific GS-4 pack by G-TraX is now available!
Take a look at the previous news item (just below this one) for background information. Then visit the Products page for ordering information.
&nbsp
November 24, 2009
SP 4449 by G-TraX, another offering in the Preservation Series, is nearing completion and will be released in mid-December.

Screen shot: John Lippai
SP 4449 was built by Lima Locomotive Works in 1941 as part of Southern Pacific's "GS" (for Golden State) series. Number 4449 is a GS-4 "Northern" type locomotive with a 4-8-4 wheel arrangement. The only remaining operable streamlined steam locomotive of the Art Deco era, the 4449 pulled Southern Pacific's famed Daylight passenger trains from Los Angeles to San Francisco over the scenic Coast Route and then on to Portland, Oregon through the Cascade Mountains. The locomotive was retired in 1957. In 1975-1976, restored to operating condition and repainted in red, white and blue, the 4449 was selected to be one of the American Freedom Train locomotives as part of the USA's bi-centennial celebration. These days, returned to its original Daylight colors, the locomotive is frequently seen in excursion service throughout the west and midwest.
Oregon Rail Heritage Foundation
Portland, Oregon is unique in that the city owns three historic steam locomotives: Southern Pacific 4449, Spokane Portland & Seattle 700 and Oregon Railway & Navigation 197. Each of these locomotives is maintained and operated by separate non-profit organizations, and they are all currently housed in a roundhouse located in what used to be Southern Pacific's Brooklyn Yard in southeast Portland.
It wasn't always this way. After they were donated to the City by their respecitve railroads, the locomotives were put on display outdoors at Portland's Oaks Amusement Park. Weather and vandalism took their toll, and in 1960 the locomotives were relocated to the much more protected and secure environment of the Brooklyn Roundhouse.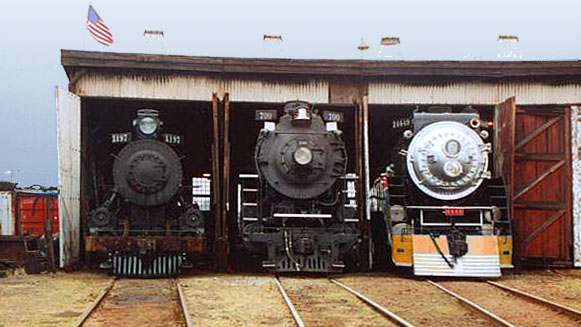 Photo: Terry Thompson
Southern Pacific was of course absorbed into Union Pacific, and today the Brooklyn Yard is a growing component of UP's intermodal services. This brings into question the future of the old roundhouse, and indeed, UP has notified the historical organizations that they will need to vacate the building in 2012.
In recognition of this inevitable turn of events, the Oregon Rail Heritage Foundation was founded as an alliance of several groups including Portland Parks & Recreation, Friends of OR&N 197, Friends of SP 4449, Northwest Rail Museum, Pacific Northwest Chapter of the NRHS, Pacific Railroad Preservation Association, and the Brooklyn Action Corps. Today, their primary mission is to find a new home for the locomotives and the machinery needed to maintain them. To that end, ORHF recently persuaded the Portland City Council to approve a loan for purchase of land alongside the Willamette River in downtown Portland, adjacent to the Oregon Museum of Science and Industry.
The job is far from over, though. All told, ORHF will need to raise around $3.5 million to complete the project. When you purchase the Preservation Series SP 4449, a significant portion of the net proceeds is donated to ORHF.
&nbsp
October 3, 2009
US Steam is now on Steam
The Nickel Plate Berkshire and SP&S Northern locomotives that comprise the G-TraX Preservation Series are now being offered through RailWorks. You can get them at the RailWorks Steam Shop or right here. Either way, the net proceeds from your donations still go to the locomotives' preservation organizations.
The price is essentially the same either way (though it's lower here if your choose the $30 "two-fer" pack). However, Valve Corporation (Steam), and RailSimulator.com (RailWorks) retain a much higher percentage of the purchase price than G-TraX does. Nevertheless, we expect that the worldwide exposure offered by Steam will help us reach out to more hobbyists and net the preservation organizations some additional contribution income.
Performance enhancements to RailWorks keep on coming from RS.com. Some of those enhancements will enable us to make improvements and add new functionality to our locomotives. In the future, whenever you log on to Steam, you will automatically receive any such updates regardless of where you purchased our products. As a backup, G-TraX will also make downloadable update patches available at this web site on the Product Support page.
&nbsp
September 7, 2009
First Contributions!
Thanks to your generosity, the first checks have gone out to the heritage organizations that maintain and operate the prototype locomotives represented by the G-TraX Preservation Series US Steam packs. The following is excerpted from an e-mail sent to those organizations.
Mr. Terry Kimzey
Pacific Railroad Preservation Association
Portland, Oregon

Mr. Kelly Lynch
Fort Wayne Railroad Historical Society
Fort Wayne, Indiana

Gentlemen,

The G-TraX Preservation Series US Steam packages for RailWorks went on sale on August 26. You can visit www.gtraxsims.com for details of the products.

I am pleased to report that the products have been very well received by the international railroad simulator community. As a result of this reception, you will shortly receive a check for $1,000.00 made out to your organization, representing the first installment in our effort to support the preservation of our railroad heritage. I will forward additional contributions as they accumulate.

Whatever thanks are due should be directed to the many people from around the world whose individual donations made this contribution possible.

Best regards,
Rick Grout
G-TraX Simulations LLC
&nbsp
August 28, 2009
Sorry–your last action could not be completed
Some customers have reported receiving the above error message from PayPal. This is a widespread problem affecting many merchants who use PayPal. Luckily it affects only a few people, but I thought I'd share what I've found out with everyone. If you Google the words in the message, you get page after page of theories, each of them different, and each claiming to be the "correct" solution. PayPal reportedly admits it's a "known issue," but they also are quick to place the blame on merchants, even though most of us, including G-TraX, use link codes furnished by PayPal!
As an aside, the links PayPal furnishes to its merchants definitely will not work if you're using Internet Explorer 8.
All I can say is what others have suggested: try a different computer; try a different browser; try a different credit card; turn on cookies. At somebody's suggestion, I added code to open the PayPal site as a separate page. We'll see if that does any good. I've encountered this message myself a few times, but it eventually goes away if I wait awhile and try again later.
Meanwhile if you continue to have a problem contact me at support@gtraxsims.com. Don't PM me in a fan forum as I don't log in that often.
Rick
&nbsp
August 26, 2009
Berks and Northerns
The Nickel Plate Berks and SP&S Northerns are ready!
SP&S 700 was one of three Class E-1 Baldwin Northerns delivered to the Spokane, Portland and Seattle Railway in 1938. Numbers 700 and 702 were used in passenger service and number 701 was used primarily for freight service. The Northern locomotive set includes numbers 700 and 701. The model of number 701 varies from the 700 only in the paint job, with white lettering, no striping and extra weathering.
The Berkshire locomotive set includes Nickel Plate number 765, and a dynamically numbered S-2 Berkshire. NKP 765 is the most well known and the most active of all the surviving Nickel Plate Berks. The model reflects the locomotive in its current condition which in turn is based on its appearance in the mid-1940s. It differs from the general S-2 in the numberboard fonts, the darker smokebox, the painted steel bell and the lack of a second, Mars SB-R-250 oscillating headlight.
The SP&S Northerns and the Nickel Plate Berks are both part of the G-TraX Preservation Series. Net proceeds from all sales are donated to the Pacific Railroad Preservation Association (Northerns), and the Fort Wayne Railroad Historical Society (Berkshires).
Visit the Products page for more information.
&nbsp
August 7, 2009
Roster Additions
The soon-to-be-released SP&S 700 Northern and Nickel Plate Berkshire, for RailWorks, will have some company. SP&S 700 will be accompanied by its freight-only sister, number 701. And the Berk roster now includes perhaps the most famous Nickel Plate Berkshire of them all, number 765.
&nbsp
June 15, 2009
RailWorks is here!
It's time to move on. RailWorks, the successor to Rail Simulator, was released on June 12. Like it or not, agree or not, RailWorks is the new gold standard of railroad simulators. Best of all, this is just the beginning. Kuju? Gone. EA? Gone. A warm welcome to the new owner-developer, RailSimulator.com.
Is RailWorks perfect? Of course not. There will always be room for improvement. However, this time around we don't have the situation where the program is released and that's the end of it. It's great to know that RailWorks is supported by a small but dedicated staff of programmers and artists who are just like us: they love trains! They're going to be around for as long as we support the sim, and they've made a committment to issue ongoing upgrades to it. If you obtained RailWorks via the Steam distribution network, those upgrades will be automatic and transparent.
Third party developers like G-TraX are finally beginning to create new content specifically for RailWorks. You know us, you've downloaded or bought our products. From here on out it only gets better.
So isn't it time you got on board?
&nbsp
January 12, 2009
SP&S 700 by G-TraX
G-TraX announces the second of its highly detailed steam locomotives, and the first of its Preservation Series models, Spokane, Portland and Seattle number 700. SP&S 700 is an operating steam locomotive based in Portland, Oregon. The Preservation Series steam locomotives are being developed in cooperation with the sponsors of the actual locomotives. A portion of the sales of each locomotive model will be donated to the respective sponsoring organizations.
Some of you may recall that SP&S 700 was the first big-steam model that Rick built for MSTS. Rick says, "I used to live a few blocks from Union Station in Portland. One evening in the Summer of 2002 as I was working on the NALW Berkshire cab, I heard a noticeably low-pitched steam whistle. I said to myself, 'Is that what I think it is?' I dropped everything and literally ran over to the train tracks— and there she was in all her splendor! I knew then and there what my next project would be."
Released in early 2003, the model has undergone over 10,000 downloads at train-sim.com, along with nearly double that number of repaints. The model files were also donated to the locomotive's sponsor, the Pacific Railroad Preservation Association, for sale at its live events and on its web site.
This time around, the model has been rebuilt from the ground up. We hope you purchase the G-TraX SP&S 700. Your money goes to a good cause and you'll get to run one of the all-time great steamers.
Click here for more information.
&nbsp
December 13, 2008
POV: Is it Accurate?
You hear it all the time. Is this route accurate? Is that locomotive accurate? Well at last here's the answer to all those questions: No!
Accurate is an absolute term. There's no such thing as "mostly accurate" or "semi-accurate" or even "close to accurate." Something is either accurate or it's not. A "High-Accuracy Route" is, by definition, not accurate. Otherwise we could call it an "Accurate Route." The route may be exemplary in its attention to detail, with every building, every piece of clutter, every rock in its proper place. But there will always be something that's at least a little off. In the same way, an "accurate" locomotive model could very likely produce a long list of inaccuracies if we took the time to look for them all.
Why is this? It's because of the compromises we as modelers have to make. It's inevitable that we will introduce inaccuracies into our work, either intentionally or inadvertently. There a lot of reasons for this.
The first and foremost cause of inaccuracy is time. Time is a limited resource. We only have so much of it and our modeling time has to be apportioned among all the other things we need to do in our daily lives. Something has to give and often that's accuracy.
The other big contributor to inaccuracy is the need for computation performance. The closer we approach accuracy in all the details, the more the performance suffers. Everyone would like us to make highly detailed models, but everybody wants good performance, too. You can't have both—they're mutually exclusive. We have to simplify our models to achieve performance and we do so to the detriment of accuracy.
The third major reason for inaccuracy is our source material. It's not feasible to measure the position of every nut and bolt on a locomotive. It's hardly even possible to get near a locomotive these days! So we have to rely on other sources of information such as drawings. But are the drawings accurate? Probably not. And do the drawings actually show every one of those nuts and bolts and are they drawn in exactly the right place? Again, probably not.
But for most of us there's hope. Are the major dimensions correct? Are the relative dimensions such as the distance between wheels, or the distance between prominent features and points of reference correct? Are the various shapes properly proportioned? Is the model and its component parts painted in a way that approaches reality? Does it convey the look and feel of the prototype? Does it make you stand up and take notice? If you can answer Yes to questions like these, you have a good model. But it's probably not accurate. After all, it's only a simulation!
&nbsp
October 10, 2008
G-Trax Simulations Launches New Web Site!
G-Trax Simulations, a supplier of high-definition railroad simulator add-ons, launched its own new web site today. G-TraX is operated by Rick Grout, who has been working behind the scenes for several years, having provided a significant amount of the content in such well known add-on products as the Donner Pass and Feather River routes for MSTS.
The initial product offering from G-TraX will consist of two steam locomotives. Both locomotives are currently in various stages of construction. Preparations are also being made for the future release of freight and passenger rolling stock items as well as for at least one "high-accuracy" route. Classic and modern eras of railroading will be represented.